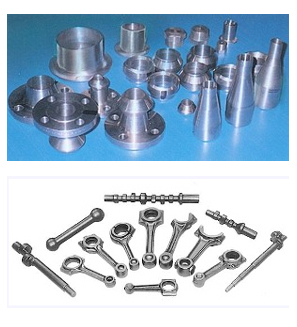 -: STEEL FORGINGS & MACHINED COMPONENTS.
FLANGES
Forged high-pressure fittings and flanges have become increasingly popular in this present day modern technology and are made to international quality (ANSI and ASTM) standards.
The production facilities include forging press and high speed hammers, heating and heat treatment furnaces, full QC and R&D facilities, bright bar machines, Shot blasting etc.
AUTO & EARTH MOVING FORGINGS
Forgings for saloon cars, heavy lories, tractors and heavy earth moving equipment in raw as well as in fully machined form using CNC and special purpose machines ( crankshaft, connecting rods, levers, gear blanks, idler wheels, pinions, rollers, sprockets, hub assemblies, supports, tooth points, adapter and other parts).